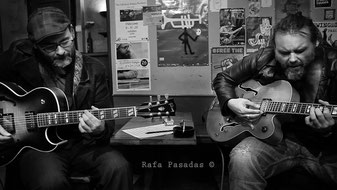 Nice to start up my brand new blog with great news!.
Right today, on february the 2nd, my new album entitled DUOLOGY, Take a Second is being released through Bandcamp.
In this second one of a series of ten I am honored to play along with one of my favorite guitar players, Telmo Fernandez.
Great talents worked on the album so I am not surprised the result is a great one.
It was recorded by Tomás Ageitos at Estudio A Ponte, Santiago de Compostela. So beautifully mixed and mastered by Arne Bock and Art designed by awesome Rocío Alen. Liner notes written by Sergio Cabanillas, director and conductor of beautiful radio show "Universos Paralelos".

But that´s not all!!!.
Rafa Pasadas, an amazingly talented photographer, wrote down, directed and realized this such a beautiful movie. Picture you can see in this post was taken by him also.
And my brother and sister in law, both so talented artists, Alberto Pin and Dora Rodríguez, just hand-made a really cool commemorative pick. OMG, what a luxury!!!
I really would like to thank them all and let them know how much I love these guys!!!...
Hope you check out the album and enjoy it!... here´s a link to!