Jazz Comp and Solo Using Triads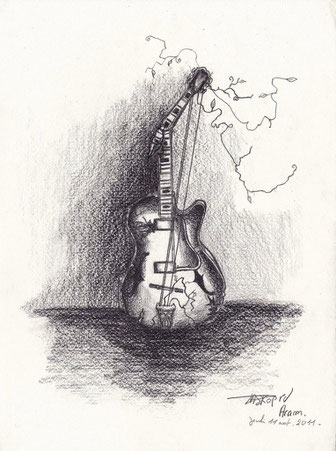 Welcome Everybody!
On February already! Wow!!, I have the impression time travels faster and faster... anyway, sounds a good month to post a bit about guitar.
We, guitarists, are always struggling with chords: in search of the hippest voicing, dealing with ridiculous hard shapes, trying to find a painless way in order to reach this or that color, you know, daily matters... but let me talk here a bit about easy, common, old TRIADS and how we can enjoy them within a different approach, playing them to make four note harmonies work.
I better say this first: Just remember that the fact that you might hear a bass in your inner ear when in a playing situation where no one plays bass, it does not mean the guys staring in front of you (a.k.a AUDIENCE) do!!... Once this´said, let´s approach basic four note chords, so to speak MAJ7  MIN7 b7 and MIN7b5 first.
Let´s call Cmaj7!

As you can see above, once our bass player is working on the foundations of this sound, we have a beautiful Emin triad to play all fingerboard long ...up an down.
But wait!!, what happens if our bassist is having fun with a C# instead?!. Oh yes!!, we still have an Emin triad but we the sound becomes C#min7b5...Man!, how can just one simple pitch change the overall mood!!, amazing how powerful this bass men are...!!

This, I consider pretty ironic: We use a MINOR triad to MAJ7 and a MAJOR one to MIN7... next example: F major triad to D-7:

And last but not least, with a DIMINISHED triad we can figure a DOMINANT chord out . Take a glance!, B diminished triad into a G7.

Guys!, have you realized when you just play that root note under the triad, depending on the inversion you play above, you just get famous ClOSE position, DROP 2 and DROP 3 voicing!! Cool, isn´t it?...but even cooler than comping is??? ... Yes!... Soloing!!... Check this out!.
In the example above, I firstly decided which triads and inversions to use and then just applied a simple chromatic approach to their notes, ascending mainly as I can see...
If you wanna check this lick out, here it goes my new contribution to Youtube: 
I play it in 3 different tempos setting metronome to click on all four beats, just on 2 & 4 and one click per bar, on beat 4.
PDF Lesson
Comping and Soloing with TRIADS Lesson 1
PDF download.pdf
Adobe Acrobat Document
5.9 MB
 And that´s it for this month. I hope you enjoyed the article and found it helpful.
                   Have an awesome February out there!!...