SPIRAL by John Coltrane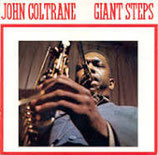 It is not a secret, Giant Steps is one of my all time favorites.
This first album Coltrane recorded for the label Atlantic Records, the fifth one in his career as a leader is, no doubt, a MUST for every Jazz aficionado. 
Tommy Flanagan on piano, Art Taylor on drums, Paul Chambers on bass and Trane on sax came with this  seven tracks jewel for our delight in year 1959. ( Wynton Kelly plays piano and Jimmy Cobb drums on  the track Naima ).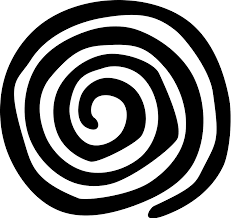 SPIRAL is the title of the fourth track.
Needless to say that every track rocks and become a master piece in its own but let me talk about this last one from side A in the LP to accomplish  this March´s article.
 Here you are the track, take a listen to:
 And here is my handmade transcription, feel free to download:
 What I love in the tune, aside from the excellent playing from the musicians are the compositional tools used here by Coltrane to accomplish an "spiral" effect. It sounds as an spiral, doesn´t it ?, check this out: play the tune and look at the spiral picture I posted above... Amazing!!, .. I love it!!.
 How he accomplished that effect?,
I wondered for a time...
LET´s TALK ABOUT FORM FIRST
  A A B A form, an usual one, but let me ask: What´s going on with A sections?... Exactly!!, 12 bars long, a BLUES!!. A´s are blues!!... B, 8 bars long.
A blues with bridge?, yes I might call it that way...
 HARMONIES
 Descending chromatically major triads with a pedal tone, D pedal leading to common harmonies in last six bars of A, when rhythm section walks . That definitely helps the effect. Notice that bridge kind of settles everything down, really wise in that sense from my humble point of view, built on IV dominant degree... reminisce of the blues?... 
MELODY
 What do we have here?, a chromatic also descending melody, freely interpreted with a mantra mood. Yes!, that´s it, three elements masterfully combined to compose a master piece. 
 Guys!, what are you waiting to?, go to the piano and write down a similar one!!, I know you can!! 
 Let me finish this March´s article posting a short clip with my trio playing the piece,   I hope you enjoy. We are:
                                                      Paco Charlin on Bass
                                                    Naima Acuña on drums
                                                       Marcos Pin on guitar
   ...and oh, sure!, don´t forget to SUBSCRIBE to my blog, above on the right, I´d love to hear from you guys and share music, feedback, experiences... you know, after all we are all sharing a planet... a beautiful one!
Have a great time!!
Here´s a clip form last Thursday at Borriquita with my beautiful trio, Naima Acuña and Paco Charlín and our version of Spiral by Trane :)Aquí va un fragmento del pasado jueves en Borriquita con mi querido trio, Naima Acuña y Paco Charlin y nuestra versión de Spiral de Coltrane :)

Posted by Marcos Pin on Domingo, 14 de febrero de 2016