Aura Lee, Love Me Tender, Elvis Presley??!!... Here´s a Story...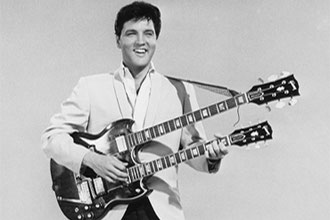 Yes!, I know, it´s been a while since I blogged a last transcription on the series.
Let´s get that fixed!!... Here I GO!!
 I found myself last week whistling this old tune while driving up and down Galicia. Because it happened several times in different days of the week I decided to play and improvise on the piece a bit, I even made a youtube out of it which I post below.
 Also googled a little bit about the song and discovered what I consider a funny story. Listen up!:
Aura Lee was a popular song from north american civil War days. Elvis Presley asked Ken Darby to write some lyrics on the melody and work out an arrangement. Of course, he did and Elvis Presley Music published the song (...good money, I´m sure about!!... :) )... The funny story, to make a long one short, Mr Darby did not want his name on it so he registered the tune on his wife´s Vera Matson. Here´s the blast: when asked by a reporter why he put his wife´s name on it, he replied: ... Because she DID NOT compose the tune either!... What a man!!
Anyway, my friends, here you are a simple transcription of the piece which you can download and a couple of youtube: Elvis´version (great one!) and my Jazzy solo guitar introspection. Hope you enjoy ! ... Stay Tuned!: SUBSCRIBE, COMMENT, SHARE,LIKE... you know... :)
PDF Transcription
FREE Download
20160606104045.pdf
Adobe Acrobat Document
115.5 KB