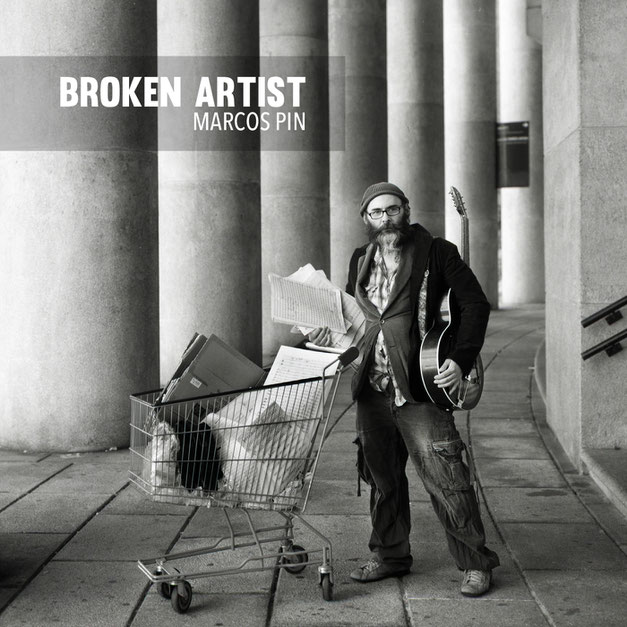 ---
NEW ALBUM -  AVAILABLE WORLDWIDE
---
BROKEN ARTIST
A Day in the Life of a Dreamer
I am excited to announce my new album, Broken Artist.
This is my 10th album release as a band leader with the label Free Code Jazz Records.
Consisting of 6 instrumental Hard Bop original compositions, I based my music writing for the album on a common descriptive subject: A day in the life of an artist. Each one of the pieces relate to a particular moment during the day where "Broken Artist" ( the main character ) deeply meditates on a particular happening and emotion that, we artists, face and fight on a daily basis.
I feel extremely fortunate and honoured because one of my most admired writers, Félix Amador Gálvez, accepted my request when asked to be part of the project writing a text story for the album.
After an online talk where I tried my best to explain (...it´s hard when talking about emotions... ) the meaning of every composition and after a week, Félix wrote and sent me such a beautiful, gorgeous text and story which precisely matches this music. Of course, the story is included with the album ( Both CD and Digital Booklet ).
"Broken Artist" features a quintet.
Four of my favourite Jazz musicians, amazingly talented performers and improvisers, bring these compositions to reality. New York based pianist Yago Vazquez is on piano, my favorite alto player Pablo Castanho is on both alto and soprano saxophones and Alfonso Calvo, double bass and Andres Rivas, drums, masterfully drive the band in delightful rhythm.
Arne Bock worked out the mixing and mastering.
The physical CD "case" was beautifully designed by Rocío Alén creating an awesome "out of the box" item. An original jacket, almost an EP size, with a spectacular picture by excellent photographer Rafa Pasadas as the cover and with an original leaflet as the insert holding the CD in the middle. A very limited edition, only 150 copies.
The album is available now in all formats worldwide.
I hope you'll consider adding "Broken Artist" to your collection.
Thanks for your support!!

MARCOS PIN "BROKEN ARTIST"
CD. LIMITED EDITION . 150 COPIES
DISPONIBLE
Ships within 1-3 days
---
---
---
---
"Un discazo, un puñetazo de Hard bop (…) Un disco absolutamente imprescindible"
Sergio Cabanillas // Universos Paralelos (A partir del minuto 31)
Broken Artist, disco destacado de la semana en Universos paralelos.
---
"The concept Pin adhered to is the struggling artist, which may sound mundane, but is still relevant today, as people continue to follow their bliss. From his point of view, as a jazz guitarist at the end of the Iberian Peninsula, it might seem like a long arduous endeavor, but that is why he does it. If it was easy, anyone could do it. Jazz was born out of necessity of expression, and continues to be a source of encouragement around the world. The road to Santiago de Compostela is paved with hope, and the journey is for the faithful. Marcos Pin is on his own path, far from defeated, he is just getting started." Read more
---
"Un trabajo fabuloso, de los que no deberían encasillarse ni en espacios físicos,
ni en épocas."  Read more
---
"...Jazz artists face an even tougher time of it, trying to climb toward whatever it is that allows them to play their rare music for an appreciative, paying audience in the age of digital download freebies. If they're not extremely careful and extremely tenacious, most of the best ones could easily get lost in the shuffle...Marcos Pin shouldn't be one of those artists.
He stands out in the best way, through his original music. The Spanish jazz guitarist and composer has put together the best collection of original jazz instrumentals in his 10-album discography."
"There is something wonderfully original yet heartbreakingly nostalgic about every one of these compositions. It's like he performed these songs with pure love of the origins of jazz in his heart while crossing over into the unknown territory he feels compelled to rework in his own signature." Read more
---
" Broken Artist es un proyecto único, mimado largamente y muy cuidado"
"Un sonido brillante que llama a modernizar el concepto de hard bop…"
"Broken Artist es todo un festival" Read more
---
"Una auténtica delicia (…)  Tanto la música contenida como el formato es una auténtica maravilla"
Sergio Cabanillas //Universos Paralelos (A partir del minuto 44)
---
"Ale hudba je to skvostná!"
"Album Broken Artist obsahuje pět autorských kompozic a jednu coververzi. Vycházejí vesměs z hard-bopu a každá se vztahuje k nějakému úseku jazzmanova dne; musím předeslat, že jsem byl mile překvapen myšlenkovou nosností víceméně přímočaré jazzové hudby. Navíc hodně niterný (a částečně neutěšený) stav umělcovy mysli tak vytanul nikoli bezvýchodně, což považuju za přirozenější v kontextu jazzové tvorby." Read more
Jan Hoceck // His Voice Magazine, ČASOPIS O JINÉ HUDBĚ
---
"...Un quinteto de músicos muy enteros y preparados que viajan a ese pasado donde el hard bop brillaba con luz propia, y lo hacen con frescura, imaginación e inteligencia disfrutando y haciendo participes de su gozo a todos aquellos que quieran prestarse a su encanto."
"Seis composiciones completan Broken Artist (...) Todas ellas caracterizadas por el buen gusto, la calidad indudable y la comunión con que se ensamblan a la perfección todos los componentes." Read more
Enrique Farelo // Tomajazz
---
"Marcos Pin teams up with Yago Vazquezz/p, Pablo Castanho/as-ss, Alfonso Calvo/b and Andres Rivas/dr for some impressive upbeat post-bop. Pin's strings are clean with solos with Rivas' brushes  on the gentle "Lullaby For My Two Boys" and flows with Vazquez's piano and Castanho's soprano on the lithe "Vulpecula." The team gets Miles Davis ESPish on "Carmen's Call" and the alto struts well on the bluesy "Castanho's reed, while the upbeat swing is infectious on "Blind Hope" and the snappy "I Love You, Too." Refreshing!"
---
"(...) la guitarra de Pin, siempre excelente y cordial que sirve para conjuntar la formación, para liderar su espíritu musical de artista, pero de artista en mayúsculas, por la música y el arte que nos regala de forma continua a través no solo de este proyecto, sino de todos los que ha llevado a cabo (Broken Artist es su décimo trabajo como líder) y de los que sin duda alguna tienen por venir."
 "(...) hard bop fluido y extraordinariamente dinámico mezclado con unas ciertas concepciones jazzísticas modernas que ilustran conceptualmente un día en la vida de un artista."
"Un superlativo trabajo"
---