Javier Pereiro, Alfonso Calvo & Marcos Pin
ENGLISH
 Well, again, time for a concert. Great!...
On this occasion this one held on last March at "Borriquita de Belen", Santiago de Compostela, where Jazz music sounds every Thursday in the already famous night so called JAMBORRI.
 I was honored to share stage on that Thursday 16th with two excellent musicians whose I always enjoy playing with:
Javier Pereiro "GDJazz" on trumpet and flugelhorn and Alfonso Calvo on double bass
 No further delay, here you are the link to the concert, I hope you enjoy our standards´selection. Go grab a beer while listening to our music. We hope you enjoy ... Thanks everybody!
Oh! Do not forget to comment , share , subscribe...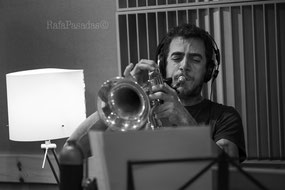 SPANISH
 Pues de nuevo toca concierto, ¡Genial!...
En esta ocasión éste celebrado el pasado Marzo en "Borriquita de Belen", Santiago de Compostela, donde cada jueves suena Jazz en la ya famosa noche bautizada cómo JAMBORRI.
 Tuve el honor de compartir escenario ese jueves 16 con dos músicos excelentes con los que siempre disfruto tocando: 
Javier Pereiro a la trompeta y fliscorno y Alfonso Calvo en el contrabajo.
 Sin más dilación, aquí tenéis el concierto, espero os guste la selección de standards. ¡Hala, a por una birra y espero lo disfrutéis!...¡Gracias a tod@s!
¡Ah!, No olvidéis comentarlo, compartirlo, suscribíos...