Autumn In New York, Tal farlow
EL OTOÑO EN NUEVA YORK DE FARLOW
 En esta ocasión dejo aquí en el blog un "playlist" con "Autumn In New York", este álbum de Tal Farlow para Verve, 1954 y una transcripción de su solo en el tema que da nombre al álbum.
 Si queréis saber más sobre el disco, este enlace os llevará a mi artículo en TomaJazz y mucho más, toda la actualidad del Jazz en Español. ¡No os lo perdáis!
FARLOW´S AUTUMN IN NEW YORK
  To this post I bring a playlist with the album "Autumn In New York" (Verve 1954) by giant guitarist Tal Farlow and a musical transcription: Farlow´s solo in Autumn In New York.
 If you want to know more about this album, here is a link to my article at TomaJazz magazine. Don´t miss!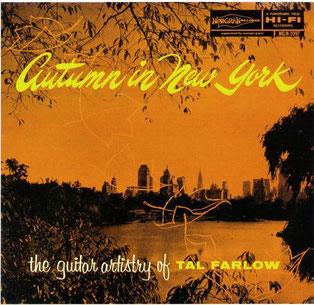 Los que estéis interesados en el PDF con la transcripción del solo de Farlow en "Autumn In New York", este es el enlace: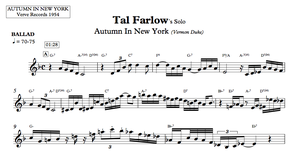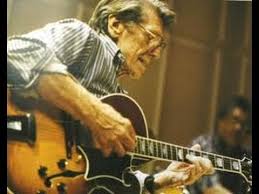 Those of you interested in PDF transcription of Farlow´s solo in Autumn in New York,
this is link to:
 Y no os perdais tampoco este "podcast" por Pachi Tapiz sobre Tal Farlow,
¡apuesto a que os va a encantar!
And do not either miss this podcast by Pachi Tapiz about Tal Farlow,
I bet you´ll enjoy!